Cheyenne and Arapaho Tribes Gov. Reggie Wassana thanks the Dept. of Justice and the staff of the Judicial Branch for being chosen as one of the first tribes in this region to participate in the Tribal Access Program (TAP). (Photo / Rosemary Stephens)
Originally published in The Cheyenne & Arapaho Tribal Tribune December 15, 2019; Volume 15, Issue 24; by Rosemary Stephens, Editor-in-Chief.
(CONCHO, OK) The Cheyenne and Arapaho Tribes Judicial Branch host a full deployment day of training and workshops for the Tribal Access Program (TAP) National Crime Information Dec. 10-12 at the tribes' Justice Center in Concho, Okla.
The tribes were selected to participate in the 2019 TAP deployment training, which includes hands on training for finger and palm print processing, photographing mug shots and submitting records into the National Crime Information Center (NCIC).
The tribes will now have the ability to conduct onsite background checks, criminal history and run fingerprints into the national crime information systems, receiving results in less than an hour versus weeks and sometimes months they used to wait for results to be delivered.
What this means is new employee hires background checks can be processed immediately, emergency temporary homes for children can be approved virtually on site with fingerprinting and background checks, and housing applicants may be vetted in a faster, more efficient manner.
Another area that will improve is the registration of sex offenders into the database and protective orders may now be inputted into the criminal database. TAP can also assist tribes in entering orders of protection making them accessible for enforcement both on and off Tribal land, register sex offenders in compliance with the Adam Walsh Child Protection and Safety Act, enter information to prevent illegal gun purchases, enter arrest warrants for on and off reservation awareness and enforcement, perform record checks on employees and volunteers who have contact with or control of Indian children, perform record checks of housing applicants and tenants, document arrest and conviction data, obtain complete criminal histories to make release recommendations in criminal court cases and more.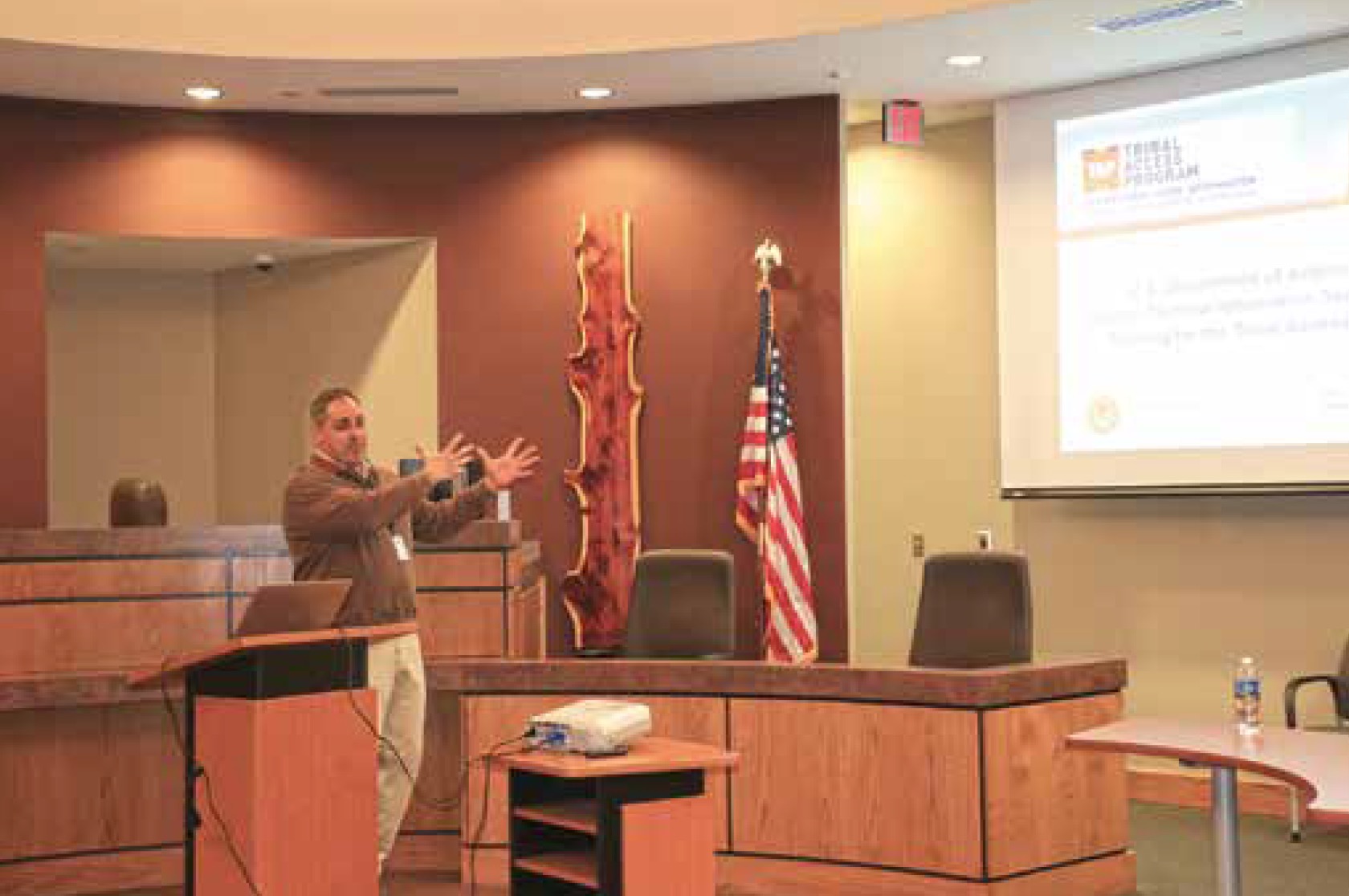 "Thank you for all of those who collaborated to bring this here to our tribes. A lot of times it's hard for us to go to other agencies, law enforcement, to get our information because they are either backlogged or we are not a priority, so I think this is a really good thing and I know our tribe is one of the first in our region to have this so I really appreciate the Dept. of Justice and all the other agencies that are here so that we may get this information out and everyone be able to use it," Cheyenne and Arapaho Tribes Gov. Reggie Wassana said.
According to the TAP Website, the U.S. Dept. of Justice (DOJ) launched the Tribal Access Program for national Crime Information in August 2015 to provide selected federally recognized tribes access to national crime information systems for federally authorized criminal and non-criminal purposes. TAP allows tribes to more effectively serve and protect their nation's citizens by ensuring the exchange of critical data across the Criminal Justice Information Services (CJIS) systems and other national crime information systems.
Those who will benefit from TAP are agencies with Sex Offender Registrations, staff who have contact with or control over Indian children, public housing, child support enforcement, Head Start, agencies investigating allegations of abuse, neglect and exploitation of children and civil courts issuing orders of protection, injunctions, restraining orders or other keep away orders.
Leading the deployment training were instructors Josh Franken and Jim Barrett.
"At one point in time tribes were reliant on sending information to a county or a state for entering into the NCIC national database. Now we can do that on our own, we can check things on our own. We can check and see if offenders are affiliated with the tribes on our own," Franken said.
Other representatives who attended the TAP training deployment were from the National Center for Missing & Exploited Children (NCMEC), Mike Nance and Don Newsom, Tyesha Wood, Navajo, from the National Criminal Justice Training Center, Fox Valley Technical College who works specifically with Amber Alert in Indian Country and Marnie Dollinger, senior policy advisor in the Office of Sex Offender Sentencing, Monitoring, Apprehending, Registering and Tracking (SMART).
Nance and Newsom are part of the NCMEC Team Adam consultants. Both are retired law-enforcement officers who are selected because of their extensive experience in the investigation of critically missing or abducted children cases and child sexual exploitation incidents.
"I would like to start with a question. What if someone you loved disappeared? What would you do? How would you go about trying to find an individual? We know that it not only affects the missing person, it also affects the family that is left behind," Nance said.
Nance said there is no longer a 24-hour waiting period for filing a missing child report. Agencies are now mandated to immediately take a missing child report and begin investigating. Studies have shown 76 percent of children are dead within three hours of going missing and 60 percent of people wait two hours before filing a missing child report to law enforcement. He emphasized the importance of reporting a missing child immediately.
According to statistics Nance read, 74 percent of missing children are female with an average age of 11. Missing children are abducted 44 percent by strangers and 42 percent are abducted by someone they know. Another startling fact Nance quoted was 50 percent of children are abducted three blocks from their home and 33 percent are abducted one-half block from their home.
"Missing child reports will be immediately inputted to the NCIC national database and investigations immediately begin and you can now input that information from your kiosk here at the tribes," Nance said. "It is so important to reach out immediately to the FBI, child abduction response teams, the NCMEC to report missing children and that's what we are here to do. NCMEC has vast resources that are free that can help prevent some of these abductions, that can help immediately when a child does go missing."
To be chosen to participate in TAP deployment training, tribes must apply and be selected. TAP only accepts applications once a year. The Cheyenne and Arapaho Tribes are one of the first tribes in the western Oklahoma area to be chosen.
To learn more about TAP visit www.usdoj. gov/tribal/tap. To learn more about the National Center for Missing & Exploited Children contact Mike Nance at mnance@ ncmec.org or Don Newsom at dnewsom@ ncmec.org.
To report a missing child call 800-THELOST or go to www.missingkids.com.