Staff and associates working on the AMBER Alert Training & Technical Assistance Program's AMBER Alert in Indian Country initiative attended the 36th Annual Gathering of Nations Pow Wow in Albuquerque, New Mexico, April 25-27, 2019.
This event brought performers from Canada and throughout the United States. Youth groups from local Pueblos danced traditional dances and displayed their musical talents by singing in their Native bands. As a part of this event, AATTAP provided an exhibit booth, which included resources for community members on missing and exploited children issues, and displayed a board of 16 pictures of children currently missing from tribal communities across the United States.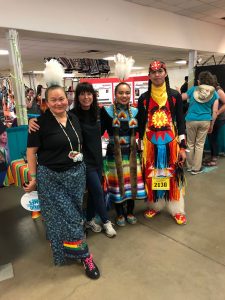 Gathering of Nations visitors enjoyed two exhibit buildings filled with over 800 Native Artist's and informational exhibits. AATTAP's display gathered the attention of many passersby; older women tapped their hearts, eyes filling with tears; showing respect for sharing the information.
Young women and men approached the booth, asking how these children were taken, or sharing experiences from their community. They asked how they could help, about safety tips for young people their age, and if they could share this information and AATTAP's materials with their friends when they got back to school; even asking how they can gather additional information to write reports for school projects and peer support groups.  Several young artists approached us and expressed a desire to draw traditional designs for AMBER Alert in Indian Country.
Parents/grandparents approached with their children, asking us how we could help them protect their children from predators. The little ones listened in respect as we shared our training guides and directed them to the AMBER Alert in Indian Country website and its wide array of resources and information.
Ashlynne Mike's Uncle visited the AATTAP booth, initially unaware we were sharing information on Ashlynne's Law. He teared up and spoke of how proud he was of his sister, Pamela, to have the courage to speak about this tragic event. The moment was very emotional for all of us. He took with him materials from the booth and we took photos together to send to Pamela. Read more about AATTAP's work with Ashlynne's Law here.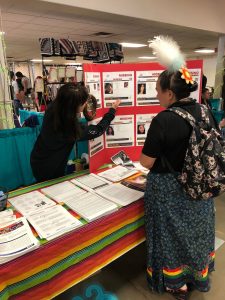 Over 30 visitors expressed their concern about tribal and neighboring city law enforcement and them not showing enough urgency when children and teens are reported as lost or missing. They emphasized their belief that more training on empathy and attention to detail in gathering information was so important for law enforcement. As community members, they felt they also should pursue more training, and should be more vigilant about awareness and reporting of things or people that seem out of place, as well as signs to watch for.
All our visitors showed much appreciation that we were there to share resources, asking if AATTAP could attend their community and youth events. Young parents also expressed a need for counseling services for families whose relatives were missing.
For more information on the Gathering of Nations Pow Wow, visit https://www.gatheringofnations.com/powwow.aspx