In July 2019, AMBER Alert Training and Technical Assistance Program, AMBER Alert in Indian Country (AATTAP-AIIC) team members attended the United National Indian Tribal Youth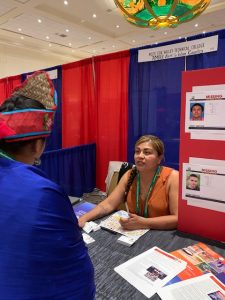 (UNITY) Annual Conference in Orlando, Florida. AATTAP-AIIC hosted an information table during the event, and representatives spoke with more than 1,000 youth regarding the topic of missing and exploited children, sharing resources available to assist tribes in their communities. Due to the COVID-19 pandemic, the 2020 annual conference will be held virtually from June 25, 2020 through July 29th, 2020.  The event is free for all youth participants and advisors, and will continue to include general sessions, workshops, a career and education expo, keynote speakers, and much more.
To learn more about UNITY and this event, please visit https://unityinc.org/events/national-conference/.